Motivation
Update 2020-12-30: I rewatched "Type theory and meaning in linguistics" and updated my slides.
Update 2021-04-03: I watched "Hacking German elections" again.
In 2020, Chaos Communication Congress is taking place online. I decided to join one year ago before the pandemic hit Europe. Since it is taking place online, I am sitting at home and watching talks on my own instead of meeting other IT security interested people. Luckily, I got a supporter ticket in time, whereas many didn't and asked for one during the conference (which you couldn't get officially). The conference today was accompanied by many technical difficulties:
webIRC did not work for me ("couldn't connect to server"). It was claimed to work past 18:00 on Day One when I was using pidgin already.

no audio during Q/A (during the opening talk)

"Das Assange-Auslieferungsverfahren" was delayed first, but then cancelled.

"CIA vs. Wikileaks": This talk by Andy Müller-Maguhn started delayed by close to 20min. Once it was running, the slides were stuck on the stream which made it difficult to follow. The speaker recognized this after a quarter of an hour and the stream was taken offline mid-talk (an article by heise covers some talk content)

"Die wunderliche Welt der Netzteilhieroglyphen" was super-silent (in general you were able to follow it by turning your volume to max), but I decided to watch it later.

visit.at.rc3.world (technical information on howto.rc3.world, implementation on github) started working past 17:00 on Day One for me. See the screenshot below.
… but it surely was a challenge for many people (as pointed out during the opening talk) and I was amazed how little difference there is between an on-site event and such an online event.
I wanted to write a review of Day One of the conference.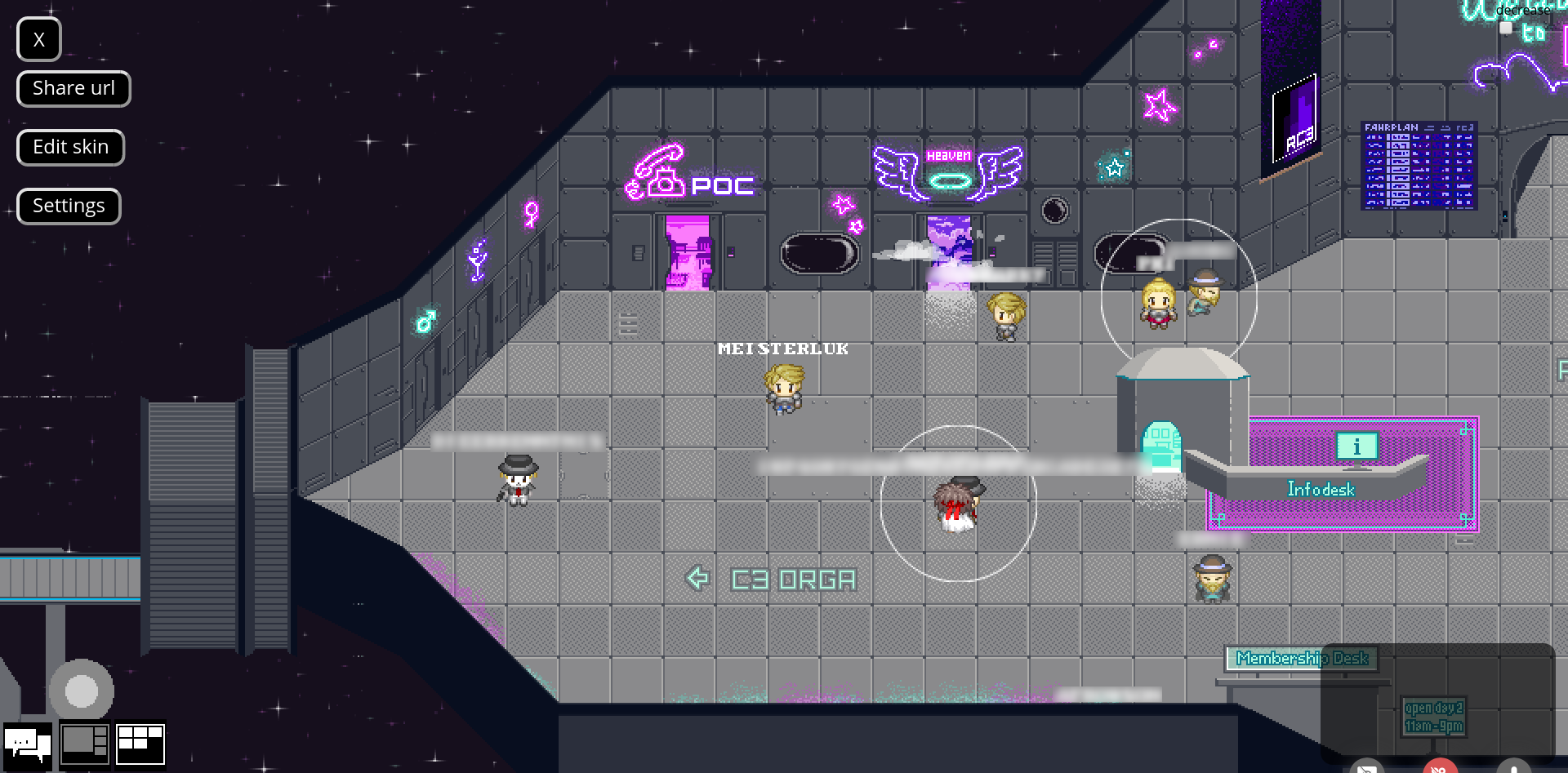 Figure 1. rc3 world featured workadventure installation, my avatar meisterluk is walking around and visiting assemblies (like rust or Tox), being close to specific areas or other people opens URLs or Jitsi instances
Conclusion
In the end, I concluded that there were many technical issues which got fixed step-by-step. Thus I expect the conference to progress smoother tomorrow. As far as talks are concerned, the quality was mid-ranged. Recommendations of the day?
I would like to praise the two Corona talks as being on the top

… and the Racket talk is not for everyone, but following a train of thought in LISP was great: